Bonds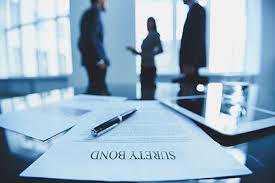 Surety bonds protect in the event of a contractual default.  A business owner obtains a bond from a surety company, if the business defaults, the surety company is obligated to find another business to complete the contract or compensate the client for the financial loss incurred.  Depending on the type of obligation, a bond may be required.  There are many types of Surety Bonds available, contact our Commercial professionals to discuss the best option for your business.  Some examples include:
Business owners may need a surety bond to guarantee payment for state sales taxes or utility bills.
Contractors may need to post a license or permit bond to guarantee work for licensing requirements with municipalities.
Attorneys may have clients that are required to post court bonds such as administrators or executors bonds to guarantee performance while distributing assets in estate situations.
Notary publics are required to post bonds in most states.